WHAT IS THE DIFFERENCE BETWEEN TUNED BY THX AND THX CERTIFIED?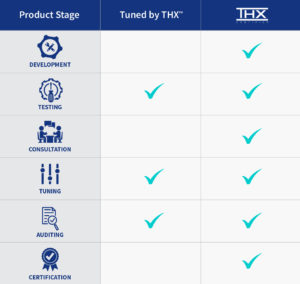 Learn More
THX® CERTIFIED
THX® Certification is a globally recognized assurance of a product's audio or visual fidelity. Products that are THX Certified must meet very strict performance tolerances, and endure hundreds of qualitative and functionality tests to ensure uncompromising audio and visual entertainment.
To customers, it is a key point of differentiation in the consumer electronics marketplace.
TUNED BY THX™
Tuned by THX™ products are carefully tuned and calibrated by THX engineers to maximize the performance of the existing device. Displays mirror the professional settings used by filmmakers and broadcast professionals, while audio products have high-accuracy filters applied.
It is the best way to get the optimal performance out of your device.