San Francisco, CA, October 26, 2023 — THX Ltd., a world-class high-fidelity audio and video tuning, certification, and technology company, and Plugin Alliance, the go-to online marketplace and distribution partner for analog-modeled audio plugins, today launched THX® Spatial Creator. THX Spatial Creator, based on core THX® Spatial Audio technology, is an immersive audio Digital Audio Workstation (DAW) plugin that empowers musicians, producers, and audio engineers to render audio closer to real life. With this new creative software tool, artists can create a range of immersive experiences from true-to-life live performances to immersive 360-degree soundscapes, to natural and engaging speech in podcasts and video content. Easy to use and compatible with all major DAWs, and for listening over any headphones, THX Spatial Creator is available here through the Plugin Alliance marketplace.
There are key reasons to mix audio with THX Spatial Creator. Listening to entertainment in full 3D immersive audio enhances engagement, creates a stronger sense of presence, and often surprises and excites the listener in ways that traditional stereo formats cannot. It is a technology that has the power to transport listeners to new worlds and elicit a wide range of emotions, adding new thrilling and inspiring ways to experience entertainment.
"With immersive audio, creators will add spatial realism as well as wild and new interesting sounds, key to enhancing the listener's experience," said Kasson Crooker, director of product development, THX Ltd. and a professional musician. "THX Spatial Creator empowers artists to easily elevate mixes. To generate emotional connections to the music, the creator can heighten the excitement, pulling the listener deeper into the story to create a sense of joy, fear, suspense, or engagement to the music, whichever the artist intends."
In entertainment, whether it is music, video, games, or podcasts, 3D immersive audio is quickly becoming a new compelling and groundbreaking storytelling tool.
THX Spatial Creator empowers artists to convey narrative elements. Immersive audio music mixes can make the listener feel they are surrounded by the instruments and by the artist. This can create a euphoric sense of being enveloped by the music, intensifying the impact of the song. For videos or movies, take a romantic scene, for example, where intimate whispers that feel like they are right in the listener's ear, can evoke a strong emotional response now that audio elements can be positioned more authentically in the virtual acoustic dome.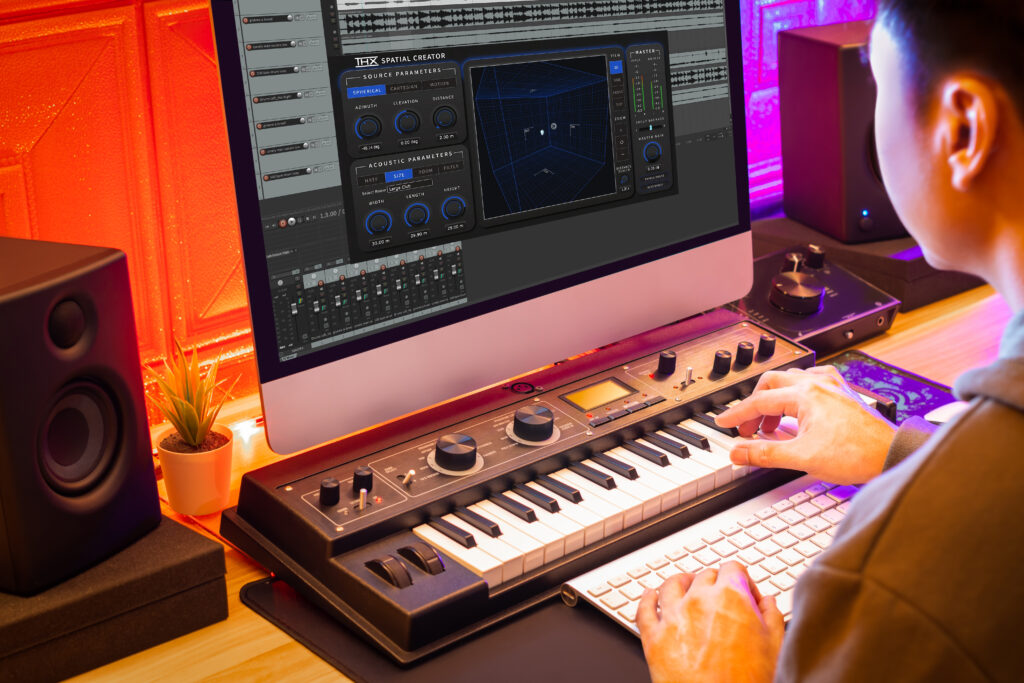 Caption: THX® Spatial Creator brings emotional depth and realism to any audio mix.
For suspenseful moments, immersive audio can create surprises and drama more effectively than traditional stereo or mono audio. Sudden sounds or unexpected noises that appear to come from behind or above the listener sends shivers down the spine creating an adrenaline rush of excitement. For podcasting, mixing in THX Spatial Creator allows for a more natural sound with crisper, clearer voices that come from the direction of the speaker as if the listener is in the same room as the podcaster. This enhances the listener's connection to the podcaster and helps alleviate listener fatigue.
Adding immersive audio to your mixes has never been easier! THX Spatial Creator works seamlessly with all major DAWs to customize your mixes with binaural audio, motion, and room simulation effects for your audience when listening over any headphones. With THX Spatial Creator you get:
Advanced HRTF (head-related transfer function) binaural rendering of object-based sound sources,
Accurate sonic fidelity for sonic placement and precision in your mixes powered by a physics-based engine based on real-world reflection processing,
Unique "Motion" feature provides quick access for moving your audio tracks in 3D space without the need for automation,
3D camera-view UI (user interface) window for easier positioning and viewing of acoustic spaces,
An intuitive and easy-to-use user interface and acoustic presets for many realistic spaces!
Download it here today and start wowing your audiences. MSRP pricing is USD $249, and an introductory special price of USD $189. THX Spatial Creator product feature specifications are here.
About the Alliance
Plugin Alliance empowers world-renowned analog hardware companies with a digital strategy and provides software developers with services that allow them to develop products with increasing quality and quantity. We do this by providing world-class marketing and distribution, as well as platform features like a state-of-the-art authorization system. In June 2023, Plugin Alliance became part of Native Instruments alongside Brainworx and iZotope.



About THX Ltd.
Founded in 1983 by filmmaker George Lucas, THX Ltd. today continues to excel at empowering great entertainment experiences. The company provides innovative modern technologies and the assurance of superior audio and visual fidelity that truthfully delivers the artist's vision. THX offerings go beyond studios and cinemas to consumer electronics, content, automotive systems, and live entertainment. Its THX® Spatial Audio and patent-rich THX AAA™ (Achromatic Audio Amplifier) audio technologies, and world-class THX® Certification standards, help THX partners bring premium entertainment enjoyment to market in the cinema, home, and mobile lifestyle electronics. For more information, visit THX.com, find us on Facebook, Instagram, YouTube, TikTok, and follow us on Twitter.
THX, THX Spatial Creator, THX Spatial Audio and the THX Logo are the property of THX Ltd., registered in the U.S. and other countries. All other trademarks and copyrights are the property of their respective owners.
Media Relations Contacts:
THX Ltd.: Jody Privette Young, [email protected]
###