THX Tune Up App
We believe everyone deserves the best quality entertainment possible. Learn how to set your home theater audio-video for THX-level performance with our free Tune-Up App and Setup Guides.
It's easy to use and your home theater will sound like a true cinema in no time.
THX tune-up features custom video test patterns, photos and tutorials to help you adjust and confirm the best picture settings on your display based on room light conditions. Using special audio tests, THX tune-up also allows you to check external speakers to confirm they are in phase and are working properly for 2-channel stereo or 5.1 sound systems.
To get started, connect your device to your TV or AVR, locate the adjustment buttons on the remote control(s) and follow the steps which will walk you through your "THX tune-up."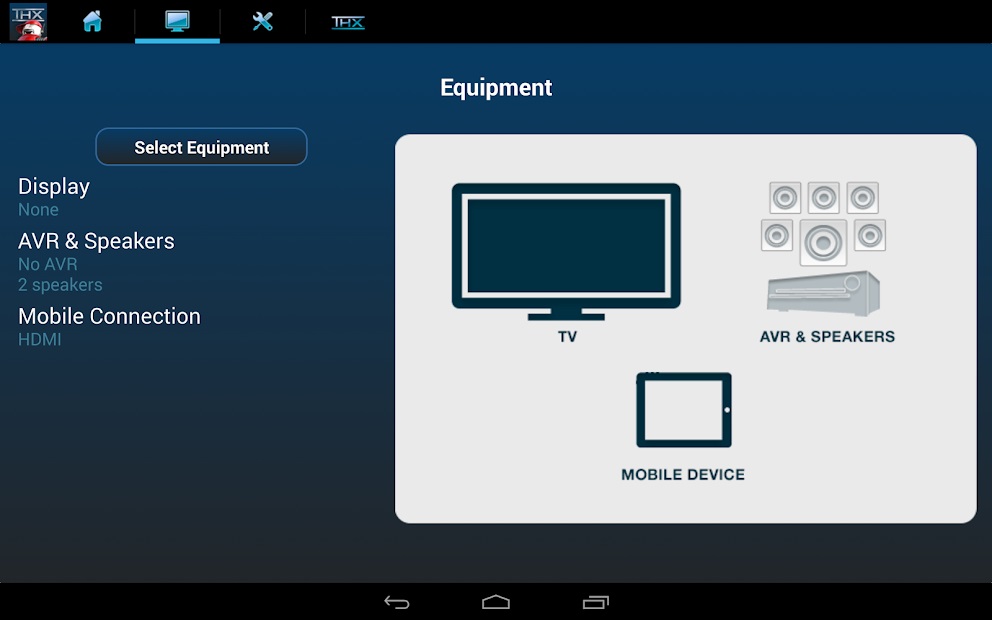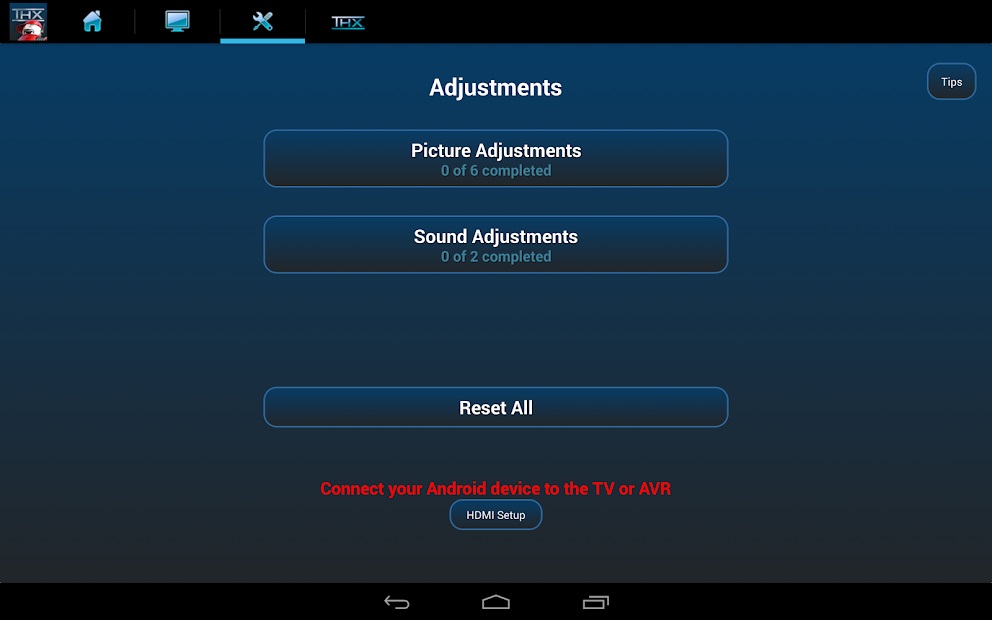 Make a few simple adjustments
Adjust your audio
Speaker assignment – confirms speakers are connected properly to the correct AVR outputs
Speaker phase – confirms that speaker cables are connected correctly and all speakers are in phase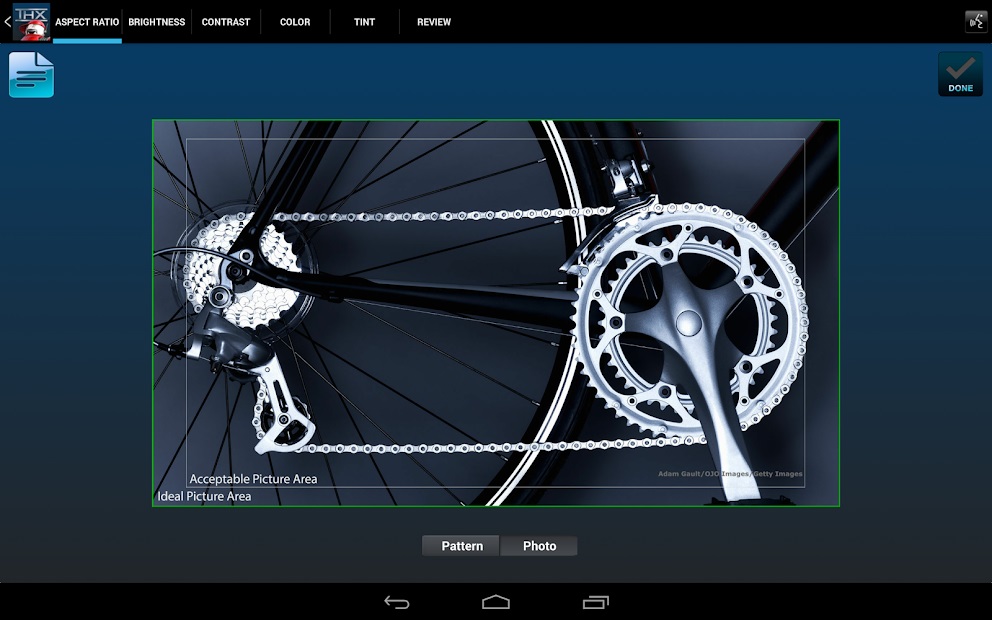 Adjust your video
Aspect ratio – ensures your TV displays shapes and sizes correctly
Brightness – ensures shadow details and night scenes are clearly visible
Contrast – ensures white detail is visible on your television
Color – ensures colors are bright and vibrant but not cartoonish
Tint – ensures skin tones look natural and are not too green or red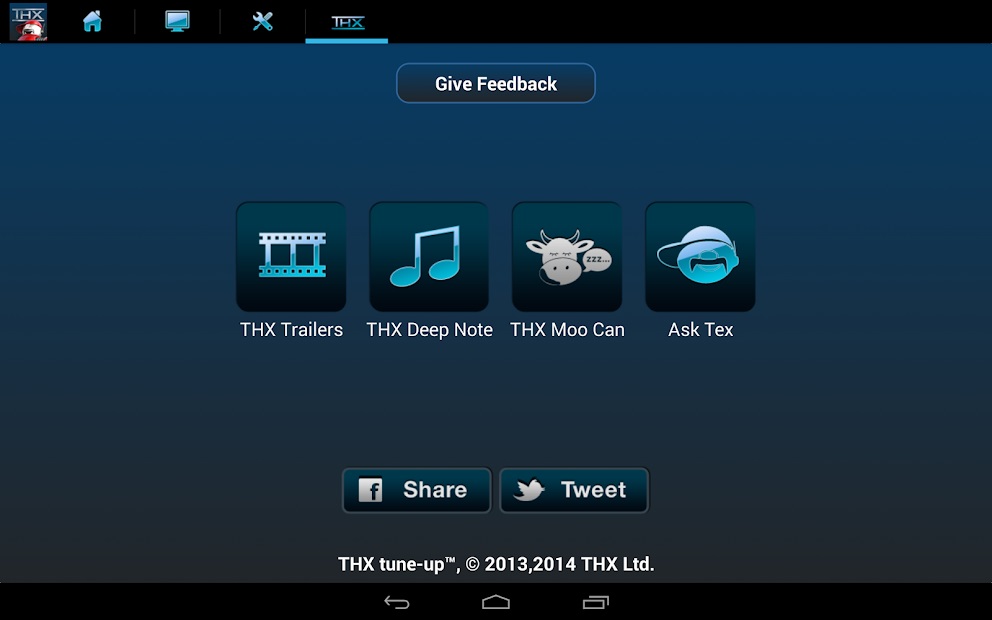 Try out your system with some THX Extras
Play extraordinary THX trailers to show off your newly tuned TV and sound system
Show off your audio system with the push of a button by playing "THX Deep Note" in 5.1 surround, just like in the cinema (phone or tablet must be connected via HDMI cable)
Turn your phone or tablet into a "moo can" – tilt it to hear the "moo"
Have a question for THX, or just want to provide feedback? Ask Tex!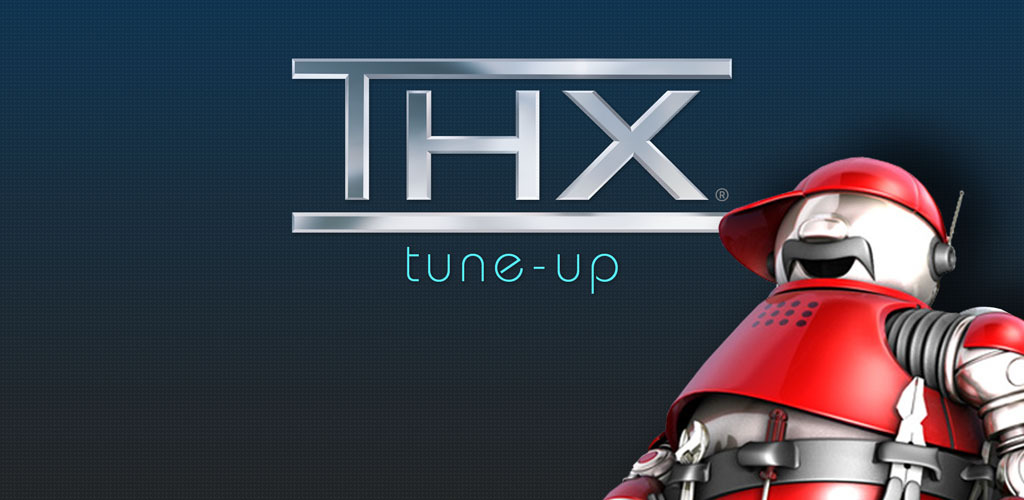 Sit back, relax, and enjoy your home theater experience
Device Requirements
Android Devices
THX tune-up supports the mobile devices with Android OS 4.2.2 or later:
HTC Droid DNA (HTC6435LVW)
HTC One, One Max, One X, & One X+
LG G2 & LG G Pad
Motorola Moto X
Nexus 4, 5, 7-2013 & 10
Samsung Galaxy S3, S4, Mega, Mega 6.3, Grand, Grand 2, Grand Duos, Grand Neo, Galaxy Nexus
Samsung Galaxy Note 2 & Note 3
Sony Xperia Z, Z1, ZL & Z tablet
Connection Requirements
To connect your Android to your TV, projector or AVR you must use an HDMI cable & an HDMI adapter that is compatible with your specific Android device. You should be able to see the Android screen on the TV or projector and hear audio from it BEFORE you use THX tune-up.
Apple Devices
Supported iOS devices: iPhone 4, 4S, 5; iPad, 2, 3, 4 & Mini; iPod Touch 4 & 5; iOS 7.1 or later
If using Apple TV, must be 3rd gen version or later
iPhone 4 & iPod Touch 4 are not supported by Apple TV; must use AV adapter & HDMI cable connection to TV or AVR for picture adjustment (720p only)
For 5.1 audio tests, iOS device must be directly connected to AVR with adapter & HDMI cable (5.1 audio tests are not supported on Apple TV)
App is optimized for iOS 7.1 or later for 4S & 5, iPad 2, 3, 4 & Mini, & iPod Touch 5 with an HDMI adapter & cable directly connected to TV or AVR
Additional Requirements
Connection to TV/AVR
HDMI cable at least 2 meters (6 ft) & Cat 2-certified
30-pin Apple Digital AV Adapter for iPad 2 & 3, iPhone 4 & 4S, & iPod Touch 4
Lightning Digital AV Adapter for iPhone 5, iPad 4 & Mini, & iPod Touch 5
Apple TV (3 gen) for picture adjustments is compatible with iPhone 4S & 5, iPad 2, 3, 4 & Mini, & iPod Touch 5
Connect iOS device via Airplay to your Apple TV (3rd gen) & turn Mirroring ON