THX CERTIFIED INTEGRATED SYSTEMS
THX CERTIFIED INTEGRATED SYSTEMS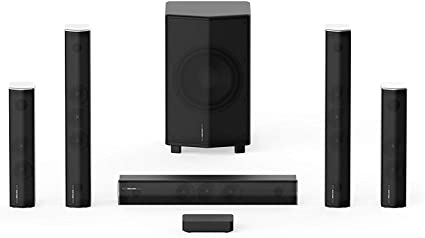 Certified Integrated Systems have the power to fill a small room without the need for room-filling speakers, where the viewing distance from the screen is 6-8 feet.
WHAT WE TEST
THX ENGINEERS COMPLETE HUNDREDS OF DIFFERENT SCIENTIFICALLY-FORMULATED TESTS TO ENSURE THE HIGHEST AUDIO VISUAL STANDARDS POSSIBLE.
ELECTRICAL & ACOUSTICAL TESTS
THX engineers perform extensive tests in an acoustic chamber to ensure speaker response is uniform at any listening position and that the system is efficient enough to produce cinema levels from a THX Certified AVR.
LISTENING TESTS
THX engineers listen to demanding soundtracks in the THX Home Theater Room to ensure the speakers sound natural and unstressed even at cinema levels.
HEAR THE DIFFERENCE
ALL THX CERTIFIED INTEGRATED SYSTEMS INCLUDE A THX LISTENING MODE, ENSURING THE LISTENING EXPERIENCE DELIVERS ON THE ARTIST'S INTENT. THX CERTIFIED INTEGRATED SYSTEMS THAT INCLUDE AN AV RECEIVER HAVE ADDITIONAL CONNECTIVITY OPTIONS AND LISTENING MODES. FOR MORE INFORMATION ON THESE FEATURES, PLEASE VISIT OUR THX CERTIFIED AV RECEIVERS PAGE.