San Francisco, September 2, 2022 – THX is pleased to announce the incredible feat of Perlisten's unprecedented win in two EISA product categories for its 2022-2023 awards. The PERLISTEN THX® Certified Dominus S-Series was crowned EISA Loudspeaker Best Product, and the PERLISTEN THX® Certified Dominus D215s subwoofer has been named EISA Home Theatre Subwoofer Best Product winner.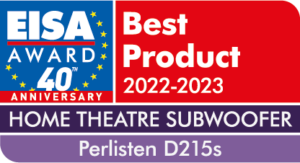 THX® Certification is a globally recognized assurance of uncompromising quality, consistency, and performance for audiovisual technologies. The THX Certification process ensures the viewing and listening experiences meet the highest global standards of excellence. THX Certified Dominus is the newest THX Certification class for the largest home theater spaces.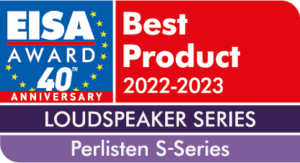 It is for products of excellence serving home theater owners with rooms up to 184 cubic meters of space and up to a 6-meter viewing distance (or up to 6500 cubic feet and up to 20 feet, respectively). PERLISTEN, the first to launch products in the THX Certified Dominus class, has been rightly acknowledged for their achievement of these top-tier quality audio products with the honor of these two impressive EISA Awards.
 "The EISA Awards are the culmination of extraordinary achievements by our company. The industry has unanimously awarded all of our products countless superior reviews at a level not seen in recent history. Our team has demonstrated superior design and engineering expertise. Kudos to them all," said Lars Johnson, chief sales officer, Perlisten Audio.
"It has been a pleasure to collaborate with the extraordinary audio design talent at Perlisten Audio on numerous products, including the first ever to achieve THX Certified Dominus status, the Perlisten S-Series," said Steven P. Martz, vice president of global technology, THX Ltd. "Achieving THX Certification status in any classification is an exemplary feat and Perlisten worked diligently to bring their customers multiple products for home theater audio that are THX Certified Dominus, which is highly commendable. They are absolutely deserving of this EISA acknowledgment."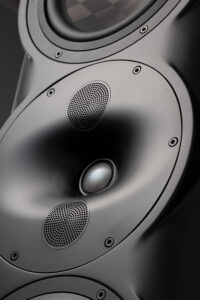 EISA selects only a single model as Loudspeaker of the Year, but this year for the very first time, they decided to redefine the prize in acknowledgment of the radical achievement, innovation, and creativity of PERLISTEN THX Certified Dominus lineup with the patent pending DPC (Directivity Pattern Control) array found at the heart of every model in both the PERLISTEN S (and it is also within the Perlisten R Series). The DPC array's delicate handling and positioning of the most minute of sonic cues is executed with an effortless naturalness that takes resolution to a new level.
The award for the PERLISTEN D215s subwoofer with THX Certified Dominus is a recognition of the superiority of the dual-drive Push Pull concept when executed in an uncompromising sealed enclosure.
The EISA Awards are presented by the Expert Imaging and Sound Association, a collaboration formed by Hi-Fi News, Home Cinema Choice, Hi-Fi Choice, Stereophile, Sound & Vision, Shutterbug, and AnalogPlanet,
About THX Ltd.
Founded in 1983 by filmmaker George Lucas, THX Ltd. today continues to excel at empowering great entertainment experiences. The company provides innovative modern technologies and the assurance of superior audio and visual fidelity that truthfully delivers the artist's vision. THX offerings go beyond studios and cinemas to consumer electronics, content, automotive systems, and live entertainment. Its THX® Spatial Audio and patent-rich THX AAA™ audio technologies, and world-class THX® Certification standards, help THX partners bring premium entertainment enjoyment to market in the cinema, home, and mobile lifestyle electronics. For more information, visit THX.com, find us on Facebook, Instagram, YouTube, TikTok, and follow us on Twitter.