AMSTERDAM, NETHERLANDS, IBC2023, September — SEI Robotics today announced its latest innovation, the Minibar: the world-first Compact 5.1 Soundbar based on Amlogic SoC, featuring Dolby Atmos® and Tuned By THX™ for the global Pay-TV market. Developed with top-tier audio and video experts, SEI will first bring this offering to market in partnership with América Móvil, and will be showcasing this product at IBC in early fall in Amsterdam.
"We are honored to collaborate with first-class partners in achieving product innovation, transforming your TV into a plug-in and play Dolby Atmos sound system, providing Pay-TV consumers with an immersive audio-visual experience. We will showcase the product at IBC2023 and look forward to meeting you in Amsterdam!" said Jeff Yin, chief executive officer, SEI Robotics.
The Minibar is a unique audio-visual solution designed for Pay-TV consumers looking to upgrade their home theater with incredible sound and picture. The soundbar supports best-in-class immersive audio with Dolby Atmos, features a 5.1 audio channel configuration, includes Android TV OS, and is Tuned by THX. The minibar is only half the length of typical soundbars on the market and packs 4K UHD capabilities, including Dolby Vision® for astonishing picture quality. Different models and packages are tailored to the needs of various Pay-TV regions depending upon the operators.
"Dolby experiences have transformed how consumers enjoy their favorite entertainment. With support for Dolby Atmos and Dolby Vision, SEI's latest integrated soundbar and set-top-box is a one-stop shop that will provide Pay-TV operators around the world a turnkey solution for delivering incredible audiovisual experiences to their customers," said Mahesh Balakrishnan, vice president, consumer entertainment, Dolby Laboratories.
The SEI Minibar is meticulously Tuned by THX, delivering an end-to-end solution that maximizes the performance of the minibar. This ensures that consumers can experience the artists' true vision in their entertainment and enjoy an exceptional out-of-the-box listening experience regardless of the type or format of the content.
"We are pleased to bring the THX audio calibration expertise to this dynamic and innovative product. This partnership with SEI allows us to further the THX mission to ensure more people can enjoy high-fidelity content the way the creators intend entertainment to be enjoyed," said Jason Fiber, chief executive officer, THX Ltd.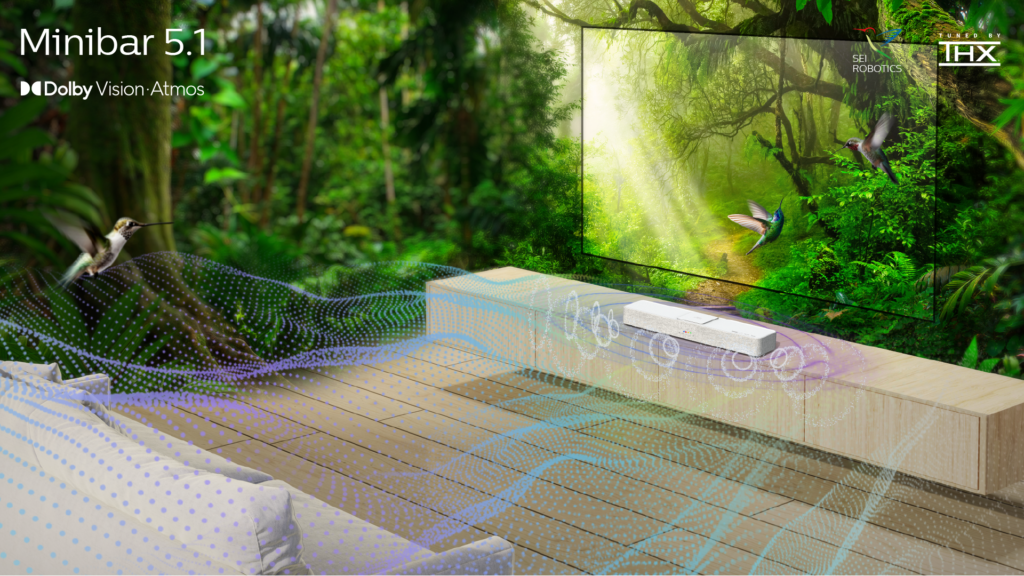 The Minibar features :
– Sleek and compact design, just the half size of typical soundbars (length of 600mm)
– Dolby Atmos immersive audio for multi-dimensional sound and Dolby Vision for visuals with incredible contrast, color, and detail
– Android TV for providing premium 4K content and enabling voice control
– Tuned by THX for balanced, well-calibrated audio at all volumes
– Features Wi-Fi 6 mesh technology for seamless wireless connectivity
"The SEI Minibar integrates all the services that consumers expect today into a compact, all-in-one product, extending this home theater option to Pay-TV customers. We are proud that América Móvil and their Claro operations will be the first launch bringing this to our valued customers in Central and South America as early as the first quarter of next year." said spokesman from Améirca Móvil.
The Minibar comes equipped with the powerful Amlogic S905X4 chipset, which incorporates a quad-core Cortex-A55 architecture, a 12nm process, and a processing power of 24K DMIPS. Alongside Dolby Vision, the chip can support HDR10+ / HLG and an HDMI2.1a 4K UHD video interface. Incorporating Dolby Atmos, Dolby Audio® and eArc support, the system elevates users' audio and visual experience, delivering flawless precision and heightened detail in both sound and picture presentations.
"We are thrilled to jointly introduce the Minibar, featuring our cutting-edge S905X4 chipset technology, providing customers with a groundbreaking audio-visual experience," said James Xie, senior vice president of Corporate Business Strategy at Amlogic.
SEI demonstrates its capability to provide telecom operators with the latest technological breakthroughs through the Minibar, enabling them to create value propositions based on Android TV and gain a larger market share. This product announcement comes on the heels of the Spring launch of HOMATICS™ X THX® HomeClick Dolby Atmos 5.4.4 which won "Best of Show" from Broadcasting & Cable at the 2023 NAB.
About THX Ltd.
Founded in 1983 by filmmaker George Lucas, THX Ltd. today continues to excel at empowering great entertainment experiences. The company provides innovative modern technologies and the assurance of superior audio and visual fidelity that truthfully delivers the artist's vision. THX offerings go beyond studios and cinemas to consumer electronics, content, automotive systems, and live entertainment. Its THX® Spatial Audio and patent-rich THX AAA™ audio technologies, and world-class THX® Certification standards, help THX partners bring premium entertainment enjoyment to market in the cinema, home, and mobile lifestyle electronics. For more information, visit THX.com.