PERLISTEN AUDIO takes another major step forward, expanding the product offering with three completely new in-ceiling speakers. A perfect solution for any advanced home theater installation featuring Dolby Atmos, DTS-X and/or AÙRA 3D audio formats.
The new S-Series and R-Series in-ceiling speakers are all engineered utilizing advanced Comsol acoustical modeling and the result are some of the most technologically advanced in-ceiling loudspeakers available. Each model is tested to the highest standards and follows our strict engineering principles. All models are THX® Certified, the S3ic and R3ic are THX Certified Dominus Surround, while the R2ic is THX Certified Ultra Surround. All models feature proprietary technologies as seen throughout our products, providing full flexibility and true timbre matching.
"With the introduction of our new in-ceiling products, this truly makes us a "complete partner" to the custom integration channel. Our offering is nearly as complete as possible and again we are taking the lead presenting something extraordinary with our new flagship in-ceiling model S3ic," says Dan Roemer, chief executive officer, PERLISTEN AUDIO. "It marks the first time a manufacturer is able to achieve THX Certified Dominus in an in-ceiling model, especially one designed for the largest private theaters of up to 6,500 cubic feet/184 cubic meters."
The new S3ic and R3ic, which measure 13.5″ in diameter (30.5 cm) and a depth of 7.7″ (19.48 cm) , housed in a sealed aluminum enclosure with a proprietary waveguide, controlling directivity to ensure frequency response is consistent over a broad range of listening positions.. While the R2ic remains with an infinite baffle design, and the rear enclosure as optional.
PERLISTEN introduces the next generation patent-pending Directivity Pattern Control (DPC) waveguide with a reference axis at 30 degrees with a broader listening window of +/- 30 Vertical and +/- 55 Horizontal degrees. This new design allows for ideal coverage for most listening spaces.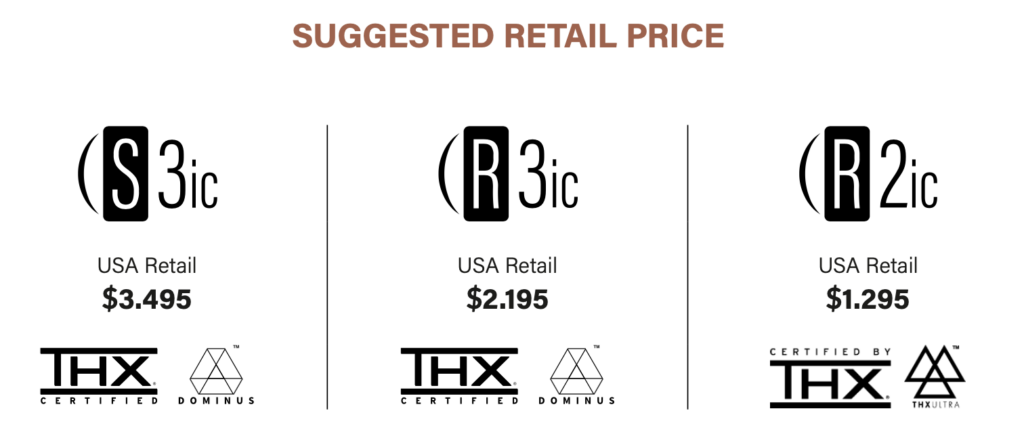 About THX Ltd.
Founded in 1983 by filmmaker George Lucas, THX Ltd. today continues to excel at empowering great entertainment experiences. The company provides innovative modern technologies and the assurance of superior audio and visual fidelity that truthfully delivers the artist's vision. THX offerings go beyond studios and cinemas to consumer electronics, content, automotive systems, and live entertainment. Its THX® Spatial Audio and patent-rich THX AAA (Achromatic Audio Amplifier)™ audio technologies, and world-class THX® Certification standards, help THX partners bring premium entertainment enjoyment to market in the cinema, home, and mobile lifestyle electronics. For more information visit THX.com, find us on Facebook, Instagram, YouTube, TikTok, and follow us on Twitter.
THX and all THX logos are registered trademarks of THX Ltd. THX Certified is a registered trademark of THX Ltd. All other product names, logos, brands, trademarks and registered trademarks are property of their respective owners.