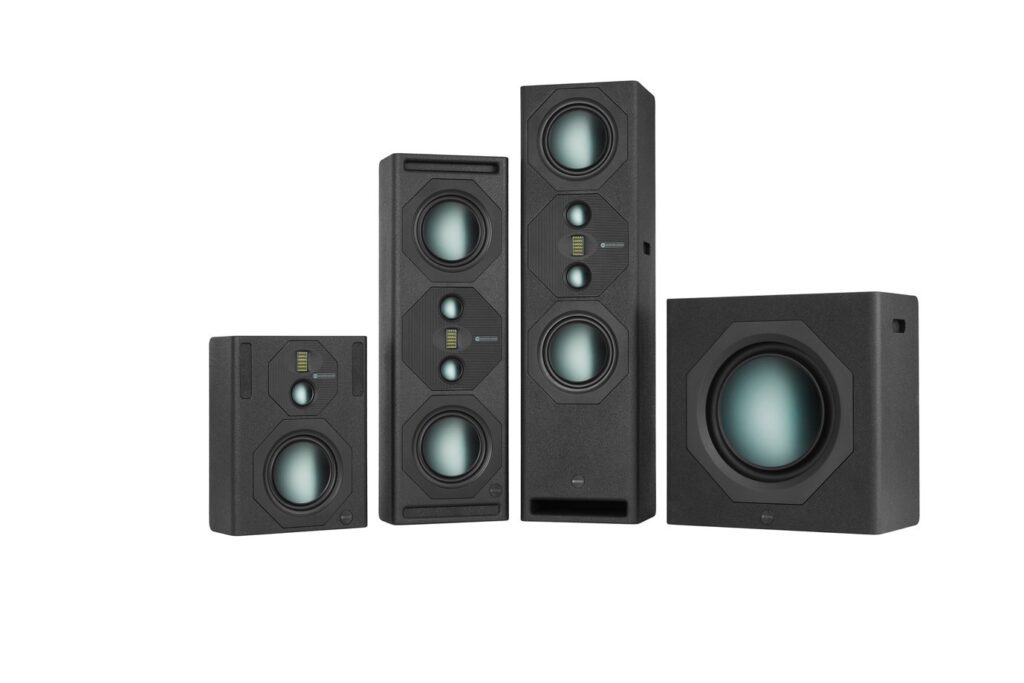 4th May 2022: Monitor Audio Group, the British-owned and managed global specialist in designing and manufacturing award-winning hi-fi audio products, today announced its launch of Cinergy, a new premium cinema audio system.
Putting installers centre stage, Monitor Audio has channelled 50 years of creating lifelike sound to bring everything it knows about audio to the big screen in developing Cinergy. In an unheard-of move, not only has Monitor Audio combined quality of design with unparalleled performance, but it has also built the system focused on the installer's needs.
Cinergy's flexible and convenient design gives installers and designers infinite possibilities, enabling them to deliver the extraordinary sound, refinement and the luxury customers expect.
The highly adaptable system has been designed with the knowledge that no two installations are the same. Built to provide installers with an ease of use they have never experienced before, features include a modular design that rotates when required, allowing the user to easily adapt to a horizontal or vertical install. It also includes a choice of isolation and fixing methods to help achieve the exact results required. Flexible options allow for integration into stud walls, fitting onto walls or securing to the floor.
What is more, installers can easily rotate the mid-tweeter array on the Cinergy 100, 200 and 300, depending on whether they are vertically or horizontally installing the product.
Cinergy also offers a swappable mid-tweeter pod to allow for the best of tailor-made systems. Intelligent design innovation also means that the mid-tweeter pod can be interchanged with the bass drivers on the Cinergy 300. Along with integrated handles to make life easier, Cinergy features handy feet and bracket isolators to reduce vibrations.
Installers can be safe in the knowledge that Cinergy features the very latest in Monitor Audio technology, designed to make every moment of cinema sound pin-sharp, clear, and unforgettable. From MPD high-frequency transducer to RDT II drivers, every element is designed to make the movies truly come to life.
Importantly, installers can have the utmost confidence in Cinergy thanks to the THX® Certified Ultra mark – a gold standard for audio and visual fidelity. Globally recognised, achieving THX® Certification assures installers and their customers that Cinergy will deliver an ultimate cinema audio experience. This does not simply mean a set of measurements done on a computer or in a lab as THX Certification is done using the dynamics of real-world listening.
The line-up includes Cinergy 100, 200, 300 and Sub15 – all of which incorporate a range of innovative features to achieve effortless performance. Learn more about the family below:
THX® Certified Cinergy 100
Whether it is mounted on the wall or integrated within it, the Monitor Audio Cinergy 100 brings exceptional audio to any residential cinema space. It comes assembled with the recommended port bungs, which are easily removable if you want to tailor the bass response along with EQ profiles for use with Monitor Audio IA amplifiers. So, you will have infinite opportunities to improvise.
THX® Certified Cinergy 200
Like the rest of the Cinergy range, the 200 incorporates some very smart features to achieve its effortless performance. The 200 features the same slim profile and integrated wall brackets as Cinergy 100. Handy brackets make it easy to install once you have found the perfect placement. Inside, two mid-range drivers double the power handling, improve efficiency, and reduce reflections from ceilings and floors. Together, they ensure everything from the most epic cinematic score to the quietest whisper of dialogue is reproduced beautifully and faithfully.
THX® Certified Cinergy 300
The biggest speaker in the range, providing some of the biggest sound. The Monitor Audio Cinergy 300 uses our latest mid-range driver technology for the purest possible sound, so those magical movie moments will never be missed. And with a design tailored to the needs of installers, you will find it easier than ever to fit – whether you are mounting it in cabinet within a wall or using it as a floor stander on the ultra-stable, isolating plinth provided.
THX® Certified Cinergy Sub15
The exceptional Cinergy Sub15 can either be installed in the wall or used as a floor standing unit, to deliver the kind of sound rarely experienced beyond the big screen. It is specially designed for use with Monitor Audio's IA800-2C amplifier, with EQ profiles available to be downloaded from the Monitor Audio website. To achieve THX® Certified Ultra specification, a Cinergy system will require a pair of Cinergy Sub15's paired with at least one IA800-2C.
To give you a first look at this new product, Monitor Audio will be sponsoring the Influencer Lounge in Hall 2, Stand 2Q250 at ISE from 10-13 May in Barcelona, where it will be showing a static display of Cinergy 300.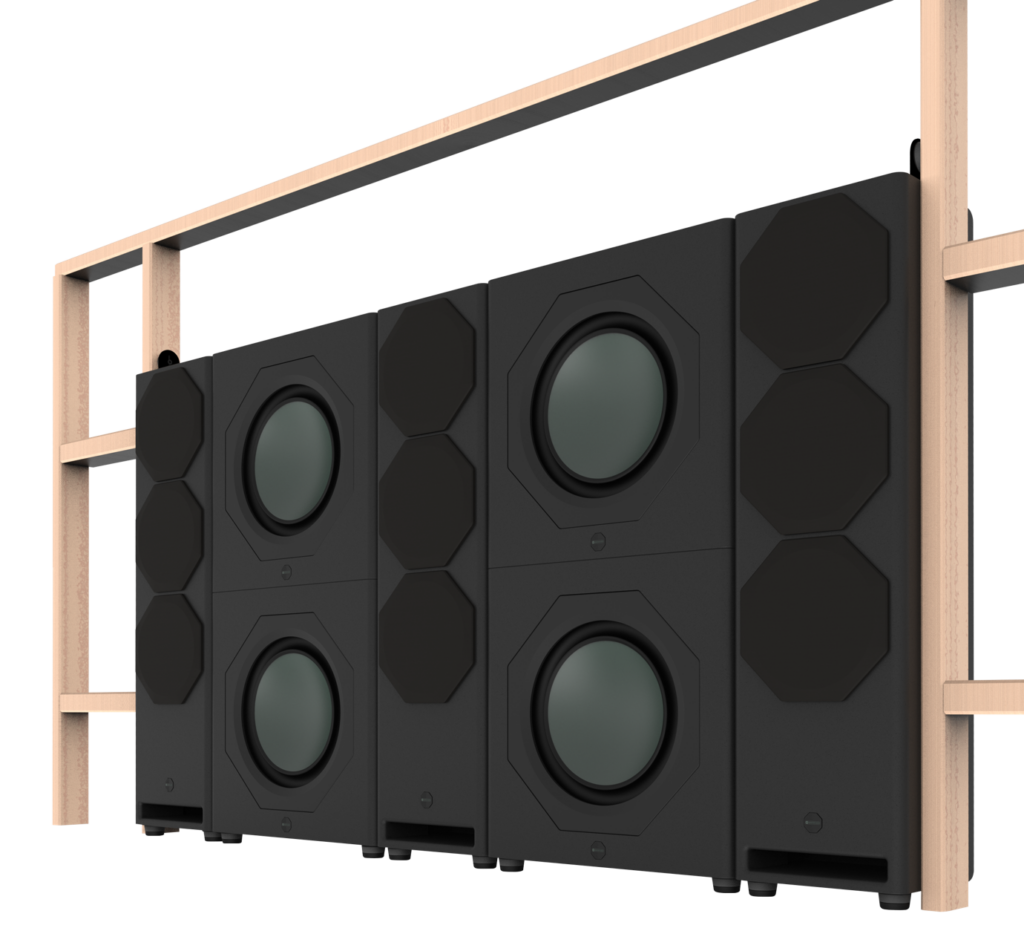 Behind the screen sound wall – Cinergy Sub15 has been designed to be half the height of the Cinergy 300 making them modular and stackable for use in sound wall.
About THX Ltd.
Founded in 1983 by filmmaker George Lucas, THX Ltd. today continues to excel at empowering great entertainment experiences. The company provides innovative modern technologies and the assurance of superior audio and visual fidelity that truthfully delivers the artist's vision. THX offerings go beyond studios and cinemas to consumer electronics, content, automotive systems, and live entertainment. Its THX® Spatial Audio and patent-rich THX AAA™ audio technologies, and world-class THX® Certification standards, help THX partners bring premium entertainment enjoyment to market in the cinema, home, and mobile lifestyle electronics. For more information, visit THX.com, find us on Facebook, Instagram, YouTube, TikTok, and follow us on Twitter.
THX and all THX logos are registered trademarks of THX Ltd. THX Certification is a registered trademark of THX Ltd. All other product names, logos, brands, trademarks, and registered trademarks are property of their respective owners.