It's been a challenging year not going to the movies, so THX is excited to announce we're bringing the cinematic experience to your home theaters with THX Certified Dominus.
Dominus is the newest and the largest performance class of THX Certification, meant to bridge the gap between large home theater speakers and those used in movie houses worldwide. Home theater owners with rooms up to 184 cubic meters of space and up to a 6-meter viewing distance (or up to 6500 cubic feet and up to 20 feet, respectively) can fill their entertainment space with the superior audio quality they expect from THX Certified products.
That means quieter whispers, bigger booms, and everything in-between at a greater distance.
Yes, we developed the THX Certified Dominus performance class to fill the most extensive home theaters with sound, but since we're THX, these new speakers need to be more than just loud. During our rigorous testing process, we pay special attention to distortion levels at high volumes. And with Dominus, we push this to the extreme, subjecting these speakers to 120 dB sound pressure levels where they must keep distortion to a minimum. Dominus speakers must also be sensitive enough to reach the cinematic THX Reference Level with THX Certified Dominus and certain THX Certified Ultra power amplifiers. We're happy to report that the 92 dB sensitivity requirement for THX Certified Dominus loudspeakers is the most sensitive of any THX loudspeaker category.
The result of the THX Certified Dominus performance class is beastly speakers that produce a massive wall of sound that'll immerse everyone in your theater or hi-fi listening room, no matter where they're sitting, with beautiful, distortion-free sound.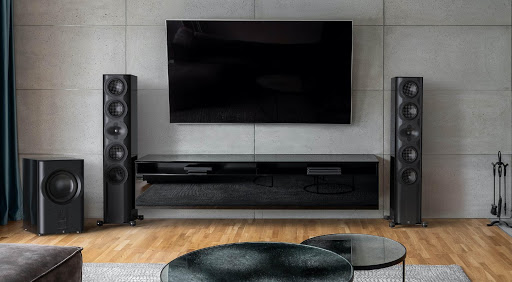 Are you a loudspeaker manufacturer and does the idea of building an immensely powerful product that's the final word for home theaters intrigue you? Drop us a line, we want to hear from you. Contact us at this link.
Check out the first set of THX Certified Dominus speakers at the Perlisten website.

Stay in touch with THX by signing up for our newsletter!