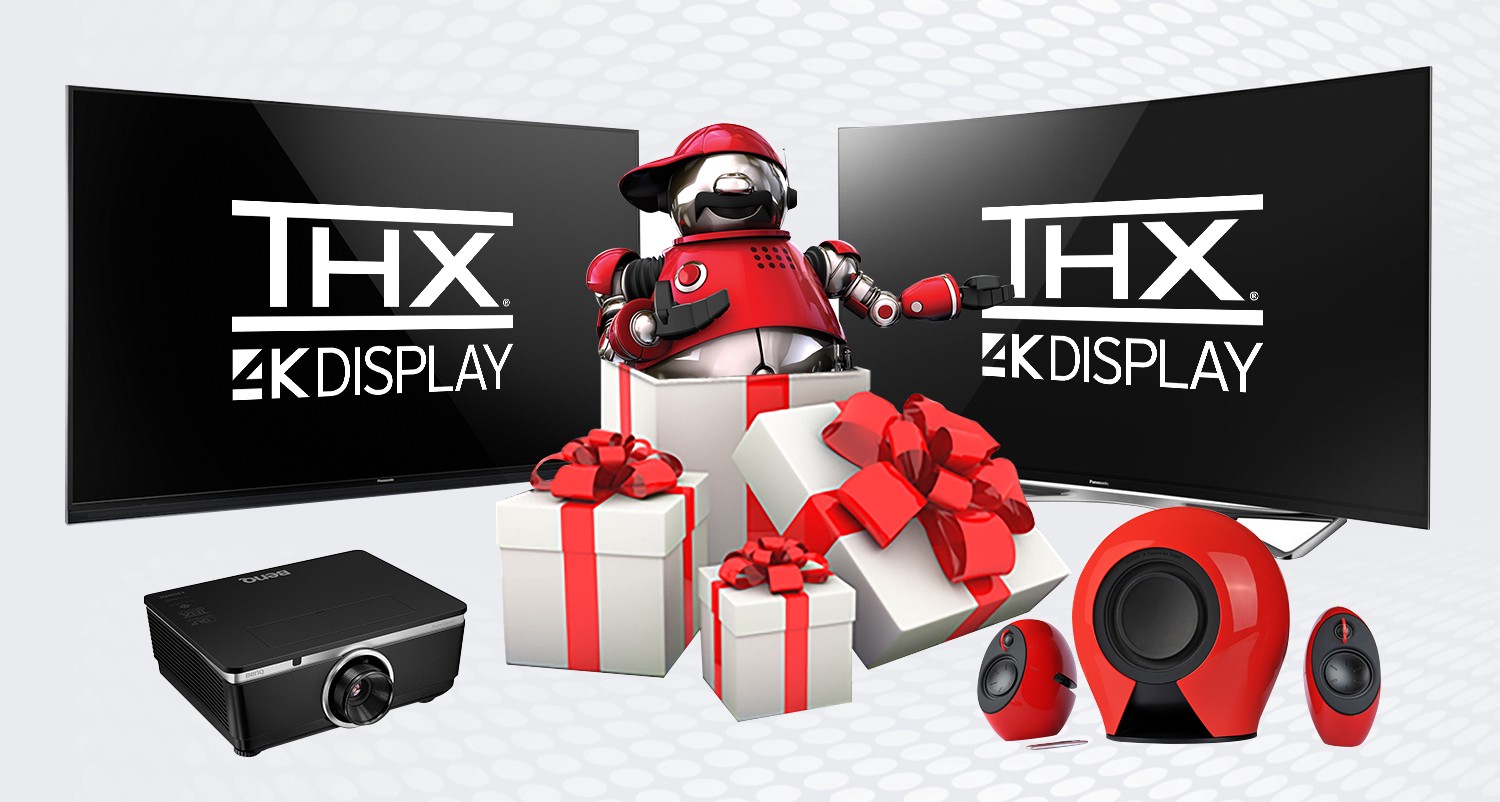 The busiest shopping weekend of the year is upon us, and home theater enthusiasts are licking their lips at the hottest deals on audio and video equipment. But you might want to hold off before you start throwing items into your shopping cart. There are lots of factors to consider when purchasing home theater components — whether it's for you or a special someone on your list. Lucky for you, THX has you covered. Here are some general guidelines to think about when evaluating home theater equipment this holiday season.
TVs: Size does matter
When it comes to TV screen size, bigger is always better, right? Not so fast. If your living room isn't big enough to handle a large TV, you might wind up compromising your viewing experience. Make sure you get a TV that's just right for your space. For a standard HDTV, measure the distance between your couch and your future TV's location, in inches. Then multiply that number by .835. The result is your perfect screen size.
The rules are a bit different for 4K or UHD sets. The images on these TVs are so detailed that you can sit very close without your eyes getting tired. Take a look at the chart below to find your ideal screen size. You're welcome to sit further away, of course, but you'll be missing out on some of the detail you've paid for.
HDR: Where color is king
Thinking about an HDR TV? You're not alone. HDR was the talk of CES 2016, and every major manufacturer is now on board, with many surprisingly affordable models available for the holiday season. But be careful — not all HDR TVs are created equal. When evaluating HDR TVs, look for RGB LED or the "Quantum Dot" label on the box. These technologies give you the widest palette for the best possible color. Beware of imitators — we've seen some models that say simply "Quantum", meaning "bigger" and that's not the same thing.
If you want to ensure that all available HDR content displays correctly, look for HDR TVs that support both HDR10 and DolbyVision. Again, look for those labels on the box before you buy.
For true surround sound, there are no shortcuts
Single speakers sometimes claim that that they provide a "surround sound experience." Don't be fooled. True surround sound requires multiple speakers. Whether you're going for a 2.1, 5.1, or 7.1 setup, your best bet is to look for THX Certified speakers. THX Certified speakers help you recreate the tonal balance of the filmmaker's final mix in your living room, giving you a more impactful and engaging audio experience.
If you do decide to go for a simpler audio solution like a sound bar, purchase one that comes with subwoofer. Small speakers don't produce low frequencies well, and a subwoofer can fill that gap to provide the bass and impact needed for the best audio.
Ok, so…how do I hook all this stuff up?
For even the most hardcore home theater enthusiast, setup can be tricky. Maybe that's part of the fun for you, or maybe it's something you dread — either way, here are a few tips to make the process a bit less painful. Make sure all the products you purchase feature "HDMI pass-through." This label can be found on the packaging. HDMI pass-through provides an easy, single-cable method of sending HD audio formats such as Dolby True HD and DTS Master Audio from an HD source to your receiver or sound bar.
If you're considering a new receiver this holiday season, be sure that it has HDMI 2.0a or HDMI 2.0b to ensure HDR compatibility. Again, you'll find these interfaces on the packaging. This ensures you can hook up to any media source, like the new
Roku Ultra
or
Amazon Fire TV
, and receive 4K quality.
Look to the future
Want to future-proof your investment? Here are a few tips to help you keep your home theater on the cutting edge for years to come. Pay attention to which inputs on your receiver are HDCP 2.2 compliant. Even the newest models may only have one HDCP 2.2 input, and that could come back to bite you as the HDCP 2.2 standard becomes more widespread.
Dolby Atmos
and
DTS:X
are other qualifications to look for. This is especially important if you plan on expanding your home theater system later on. And for you Spotify fans, good news — a lot of the latest receivers feature
Spotify
built in. Having the app running natively on your receiver can save you a lot of hassle down the road.
Happy Black Friday/Cyber Monday shopping!
We hope you found these tips helpful. Did we miss anything? Sound off in the comments section to let us know. And as always, when purchasing audio or video equipment, be sure to look for the "Certified by THX" label to ensure the ultimate home theater experience!